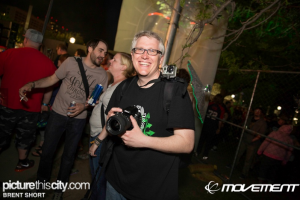 Last year I had the opportunity to photograph Movement Festival in Detroit. Where every Memorial Day weekend, some of the biggest names, and those to keep an eye out for in electronic music take the stage to perform for enthusiastic crowds. Combine the festival with the rigorous afterparty schedule and you have three days of experiencing what the Detroit electronic music scene has to offer. 2014 brought the likes of Konkrete Jungle Detroit, DJ Marky, Ed Rush & Optical, Action Bronson, Riff Raff, DJ Godfather & MC Flipside, and DBX. That was only what I was able to catch with the one day I was there.
This year, I have the opportunity to do it again. Armed with new, upgraded lenses, you will find me catching the entire day of my crew, Konkrete Jungle Detroit taking over one stage for their six hour long showcase, then I am off to Lansing for to photograph a live show for a local metal band. Sunday brings me back to Detroit to catch Josh Wink, Dog Blood, Danny Brown, Model 500, Osborne, Derek Plaslaiko and Matthew Dear. I will also be floating around, checking out and photographing  some of the lesser know artists and the ones that I am not familiar with.
This is the time of year that I see old friends, make new ones, and get to capture some great photos as well. If you see me running from stage to stage, say hi!
View full albums from 2014 Movement here: Riff Raff & Action Bronson • Konkrete Jungle Detroit/DJ Marky/Ed Rush & Optical